17 Jan

Ingrezza
Preceding the FDA-approval of Ingrezza, 
the first drug to treat 

Tardive Dyskinesia, I worked with

the creative team at Juice Pharma Worldwide 

on the conceptualization and design of two immersive digital experiences and subsequent marketing campaign. Our challenge was to educate psychologists, neurologists and medical doctors about a difficult to diagnose disease and it's treatment.
• Design Research
• Creative Concept Discovery
• Digital Design (Sketch)
• Social Media Design
• Email Design
• Interactive Design
• Client Presentations

Before joining Juice, the team conceptualized and tested a campaign strategy revolving around a physical lens that revealed what Ingrezza could accomplish for their patients. It became our prerogative to redefine the standard healthcare experience and make the patient a central focal point. To do that we had to rely on our ability to pivot and adjust the design around legal restrictions.
The traditional Juice process inluded collecting swipe and inspiration for numerous presentations to various stakeholders throughout the agency. Early on we were inspired by immersive experiences that allowed you to interact with, explore and control content. At each round, our concepts were presented remotely to clients via Invision boards and prototypes.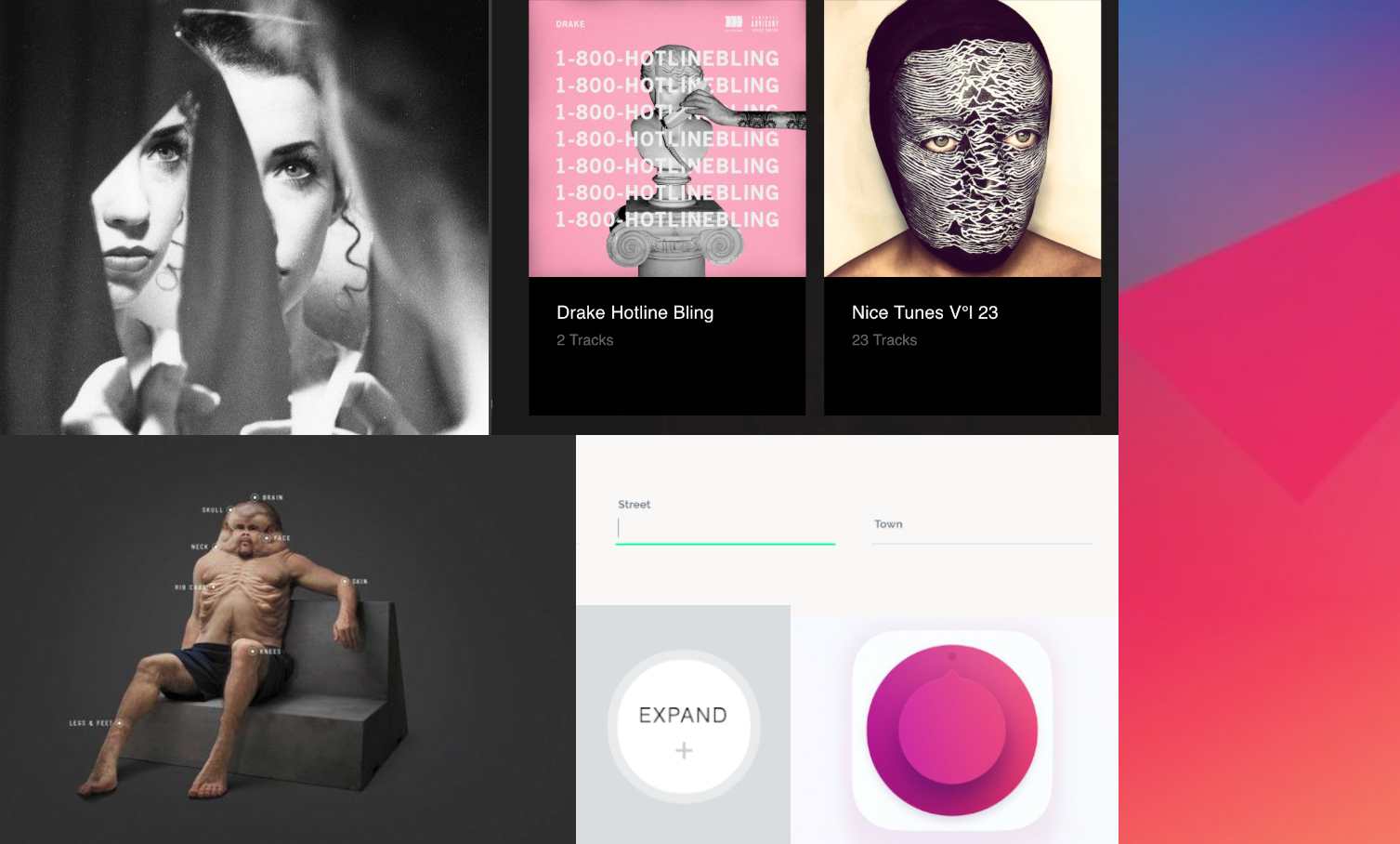 For this series of Now Approved tactics, the actionable goal was to introduce the brand and capture leads from healthcare providers and caregivers – capitalizing on the short window after FDA-approval before the drug is ready for distribution.
By bringing in micro-animations, opening up the spacing throughout a typically status quo registration form, and designing activated fields that change on command, we were able to build a website and registration experience that didn't make the audience work and connected to the overall concept by emphasizing the reveal. 
A critical flashpoint with this execution was how to animation consistently cross-browser.  I chose to kept the design flexible and tweaked treatments or motions slightly to accomplish similar effects  in each browser.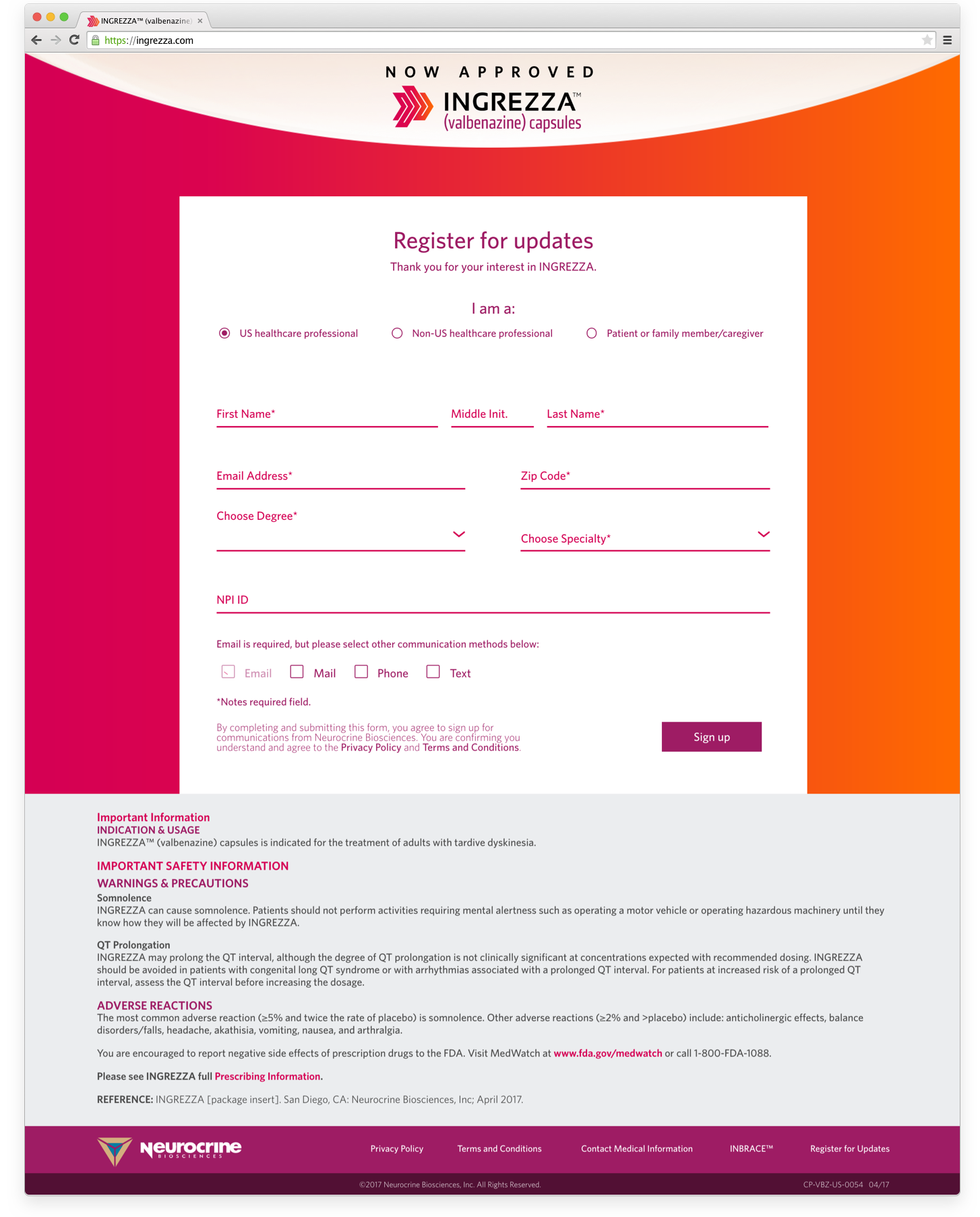 Designing the experience for the full site, we started at initial inspiration around the interactive patient. This became a section with interactive video content to help healthcare providers identify the disease. The challenge was that we had to abide by fair balance and ensure that the experience still worked with limited real estate.
The mobile burger menu transforms into a close X while simultaneously opening as a translucent lens-shaped menu. Menu items animate into place one at a time, mimicking a  jacobs ladder.
Expanding Persistent Footer
Our solution for saving page space and abiding by FDA requirements for the Important Safety Information footer was to build a reverse window shade that expanded on command.
Hovering over hotspots on the patient or the radio button nav reveals symptoms in each area of the body. Clicking either opens a blade with more information about the affected area.
Opening the symptom blade reveals videos demonstrating the different severity levels of Tardive Dyskinesia. The dial allows users to increase or decrease the severity of symptoms, educating health care providers.
To help differentiate TD from other movement disorders, we created an interactive patient assessment quiz. The feature describes true life consequences for patients instead of disease symptoms, humanizing the patient.
Throughout the process, we learned how to push each tactic technically and visually while also staying compliant with federal design regulations. My job was to take ownership of the design of two fully responsive healthcare websites with no previous healthcare experience and I succeeded by collaborating with a rockstar team of copywriters and user experience designers. Together we built a digital campaign that was eventually awarded GOLD at the 2017 PM360 Pharma Choice Awards.