08 Mar

Nuclear Narrative
To most Americans, nuclear threat is a vague concept that fails to register as a top priority in the long list of issues facing society today. Activists and professionals face critically low levels of public engagement despite an increase in real nuclear danger. Hired by the Nucleus Group, and working with UI Designer James Goss, we distilled down a print-based research report and developed a digital companion that serves as a communications toolkit for engaging a new generation of changemakers.
• Project Management
• Creative Direction
• WordPress Programming Support
• Client Training + Documentation

Brought into the project towards the end of the grant deadline—our challenge was to digitize the communication tools and research report that Nucleus' brilliant strategists had completed. This required a shift and expansion in audience demographics as the research report was created for specialists with deep institutional knowledge about the subject matter. Our job was to distill that report and craft an alternate architecture for the information—leading to a website experience that spoke to a broader audience. Below is the key graphic we were tasked with converting into a compelling digital experience.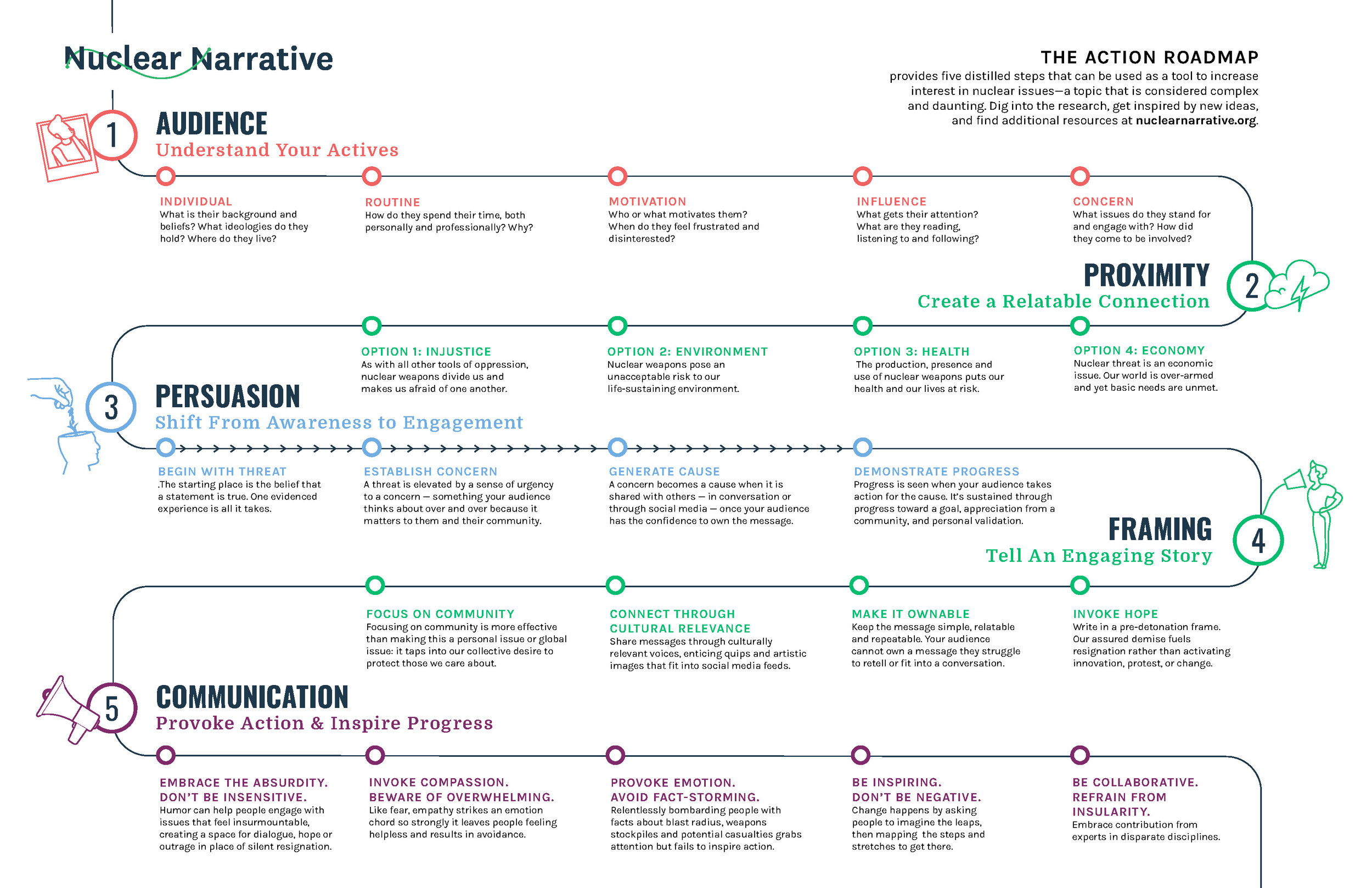 Ensuring success for the content architecture meant working with the client to widdle down the research report into its core elements. Instead of building the architecture around the majority of the observations, we instead focused on the communication model built in response to the research. In order to ensure the best content absorption, we created a long-scroll page with tiered loading times and sectional navigation.
Beyond content architecture, it was important for the client to receive a stable, secure, responsive site that was not difficult to update. There are many WordPress based sites out there, but few that are built and hosted well. Using over a decade of institutional WordPress programming knowledge—we built, coded, integrated and designed NuclearNarrative.org—securely hosted with Pantheon.io and structured with Visual Composer to ensure easy content updates.
Our client the Nucleus Group was delighted with the final result, as we not only provided design and dev services but also trained them thoroughly on the technology. Their client, the MacArthur Foundation, found the site engaging and easy to understand—which is a lot when you're presenting nuclear threat to the general public.
Visit Project Site